12 Jan 2023
The January Furniture Show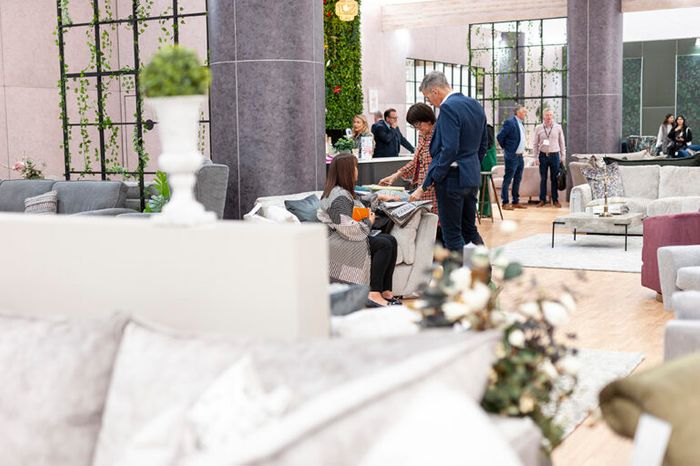 The January Furniture Show has always been an excellent way to kick off the new business year. And with so many new additions to its format we thoroughly recommend a visit. Check out the following new collaborations for 2023…
Home Interiors Show – Hall 2
Created with the industry, Home Interiors Show will make its debut alongside January Furniture Show
Clarion Retail has revealed details of a new offering for the interiors, accessories and lighting industry, Home Interiors Show.
Produced in collaboration with key brands from the industry, the show will make its debut at the January Furniture Show held at the NEC Birmingham, followed by the first full inaugural event to take place in September 2023 at London – Olympia.
Born out of a collective desire to see a wider representation of exhibitors and buyers at industry events, improved ROI and a fresh event experience, Home Interiors Show has been co-created with key UK brands including; Gallery Direct, Pacific Lifestyle, Riva Home, där Lighting Limited, CIMC home, Hill Interiors and Libra.
Pacific Lifestyle, Gold Velvet
Peter Delaney – Managing Director, Gallery Direct, commented: "Our peers have felt frustrated that the UK home interiors sector does not offer an all-encompassing trade show for our valued clients.
"We need a new, on-trend format, that we believe Clarion can deliver, in a cost-effective and creative manner.
"We know our audience is time hungry, so want to be part of a single show format in both January and September, the busiest buying windows.
"We feel the new Home Interiors Show is the answer that will tick all the boxes."
Gallery Direct – Davidson Dining Table & Manford Chairs
Andrew Hutchison – Director, Pacific Lifestyle, added: "We exhibit at a lot of events but do not feel like the quality or quantity of buyers is always there, for our business.
We feel it would be more beneficial for companies like ourselves to attend two key national events under one organiser, for improved communication and cost benefits.
"The proposition with the Home Interiors Show offers a solution that's in our peak selling times, and will take place in key locations across the UK."
Pacific Lifestyle – Black_Silver Lanterns
This new UK show will be dedicated to the interiors, accessories and lighting industry.
There will be a curated selection of exhibiting brands with exclusive product launches and an expected 10,000 new and trend-led products from across the UK and Europe.
A VIP Programme will facilitate business opportunities and a trends installation, in partnership with The Better Trends Company, will produce exclusive design and decor forecasts.
Expert talks and interactive content will provide buyers with the latest insights, advice and inspiration.
Hall 2 at the January Furniture Show will be the first taster of the new event, serving the central and northern buying community.
While the September show in London, taking place alongside Top Drawer, 10-12 September 2023, will be ideally placed to capture the high-concentration of Southern buyers, which dedicated research has shown do not travel to events outside of the Capital.
Insight has highlighted the key time for lighting companies to launch new products is September, and so having a dedicated show that captures this peak buying window was key in shaping the Autumn proposition.
The show will provide a new home for all lighting companies both in the UK and internationally.
Gallery Direct – Hudson Family & Hammersmith Sofa
Zoë Bonser, Clarion Retail Portfolio Director, said: "We are excited to be launching this vibrant new event series for the industry, and to be doing so from such a unique position in collaboration with key leaders from the industry.
"Over the past few months we have gathered and analysed customer insight, listened to the industry's pain points and responded to their needs.
"We are delighted to be creating something fresh and new, that is more in line with what the retail community wants for the future and that also puts the buyer at the heart of the experience, to give them exactly what they need."
Clarion is known for its high quality events and the Home Interiors Show will be no exception.
It will be where trends meet design, quality and inspiration, bringing together a wide range of manufacturers, retailers, designers and makers, to showcase the very latest interior and exterior accessories.
"Trends" is the buzzword for the show.
This vibrant aspirational marketplace will not only be packed with the latest product lines but also feature retail theatre experiences and expert trend advice, making it a must-visit event for the buying community of; independent retailers, department stores, multiples, online retailers, interior designers, architects, hotel and hospitality buyers, contract and furniture buyers.
Exhibitors will be offered an exclusive turn-key solution, created to be a cost-effective, sustainable and stress free way to bring their business and products to the show.
For more information visit thefurnitureshows.com/home-interiors-show
For more information about exhibiting, contact retailmarketing@clarionevents.com
JFS announces experiential live workshop in association with the CECM
Renowned British designer Bill Amberg to feature in four-day activation to celebrate 'craft' and shine a spotlight on fresh new talent.
January Furniture Show has announced details of an experiential workshop in association with the Centre for Excellence in Creative Making (CECM)
It's the first time in the show's 32-year history that a craft workshop has been brought to life during the show.
Craft The Future will be in Hall 5, and throughout the four days, visitors will be able to see interiors and furniture products being made by specialists in their field, demonstrating traditional heritage skills, combining contemporary applications, and creating products with sustainable materials.
The CECM is established as a trade skills preservation initiative, uniting a growing network of the best UK creatives, practitioners, educators, and operatives throughout the supply chain.
It supports and promotes the preservation of heritage skills across the leather and related industry sectors.
The core team and founder, Ruth Glen, are specialists in their chosen fields with backgrounds in high level commercial b2b projects, bespoke making, and manufacturing.
The creative direction of the CECM is motivated by a deep commitment to expansive innovation, operating in harmony with traditional craftsmanship and expertise.
To counterbalance the skills deficit, it aims to boost the UK's declining skill-base for creative manufacturing, through training, education, incubators, and manufacturing.
Nurturing fresh talent and creating an environment where the skills and knowledge of craftspeople can inspire new entries, replenish the workforce, and preserve the heritage and future of our creative industry.
Renowned British maker, Bill Amberg, will join the event to share insight into the use of leather in interiors and architecture.
The Bill Amberg Studio stands as the UK's foremost authority on leather's architectural and sculptural applications.
The studio is renowned for combining heritage techniques with cutting-edge technology, as demonstrated in recent projects for 22 Bishopsgate, The Royal Academy of Arts and the Queen's Diamond Jubilee Galleries at Westminster Abbey.
Craft The Future in association with the CECM will be a contemporary, creative, development studio, with an artisan workshop feel.
Visitors will be welcomed into the hub of activity with a varied programme including:
● talks and presentations by industry names including Bill Amberg, Dr. Kerry Senior, Cockpit Arts, Leather UK, The Young Furniture Makers, UKFT and Arts Thread
● focus on leather – the variety, industry, and current ecological environmental dialogue on sustainability
● live making demonstrations – hand skills, technical approaches and applications expressing the journey from design concept to finished product
● video screen footage of live workshops with designs in progress using heavier machinery
● product up-cycling, restoration, and repair
● design and making education, with lecturer and student participation
● live demonstrations from makers including NosaKhari, ARB Bespoke London, Sheena Hamson, LTT Leathercare, Louise Heighes, Gina McQuen, Jesse Noy, Harry Owen, Charles Laurie, Carl Fox, Hannah Galvin-Horne and Walter Reginald
● components workshop – textiles and hardware with a sustainability focus
James Howard, Show Manager, said: "We are delighted to be partnering with Ruth and the CECM team to bring this vibrant element to our show.
"The CECM highlights critical elements of the interiors and design industries.
"It is taking great steps to future-proof our industry by protecting and preserving skills and opening up key conversations on topics such as sustainability – that are essential for the future.
"Working together with them on this activation not only provides a real opportunity to raise awareness of these issues with our highly influential audience, but also provides our guests with content that will be entertaining, educational, and inspiring – greatly enhancing their time with us."
Ruth Glen, founder of the CECM, added: "The opportunity to showcase the work and passion of our organisation in front of such a large audience of key industry sectors is exceptional, and we are looking forward to displaying some fascinating content over the four-day event.
"The industry faces an unprecedented skills shortage, needing more than ever to work together as a whole, looking to the future to preserve and endorse these skills, honed so finely over generations.
"Our Craft The Future workshop will be a fresh and varied first-hand experience for visitors, reflecting on the importance of craft and offering an insight into the skills behind the scenes, for the curious to explore this fascinating industry and the artistic benefit it can bring for all."
The January Furniture Show has been running for 32 years and takes place 22-25 January 2023 at the Birmingham NEC.
Perfectly placed in the retail calendar, this means that visitors will be amongst the very first to see the launch of new-season styles and trends.
Registration
Registration for the event is now open and can be found here
An expected 15,000+ professional retail buyers from a wide range of industries will attend the four-day event, spending more than £500m as they make major purchasing decisions for the year ahead.
Buyers will be in attendance from sectors spanning independent retailers, department stores and multiples, online retailers, architects, interior designers, garden centres, contract buyers, procurement managers, hoteliers, and property developers.