30 Jun 2023
Women's networking event makes successful debut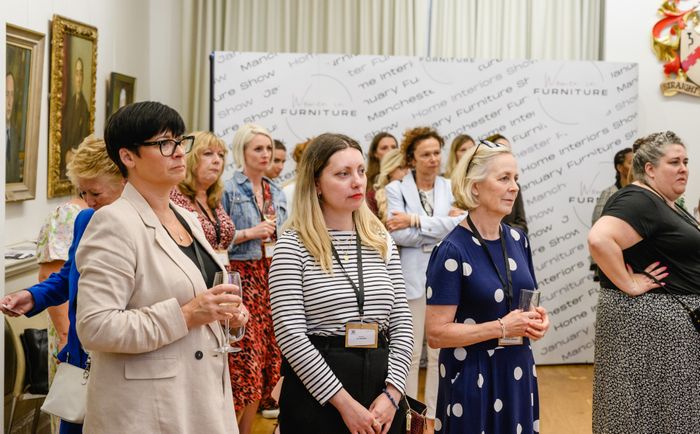 The first Women in Furniture Network (WIFN) event, held at London's Furniture Makers' Hall yesterday afternoon, saw attendees from diverse areas of furniture and furnishings gather to network and hear from three speakers about their experiences within the sector: Amanda Waring, current master of The Furniture Makers' Company (and accomplished garden designer); Dids Macdonald OBE, CEO of Anti Copying in Design (ACID); and Donna Bellingham, former CEO of Parker Knoll and other leading brands.
Co-hosting the event with organiser Clarion Events, Amanda opened with a rallying cry for her 60–60 campaign: "This will recognise 60 exceptional people 35 years old or younger working in any role who are exhibiting dedication to their careers and show promise as tomorrow's leaders. Expert judges will create a shortlist, and Edward Tadros, long-time chairman of Ercol, and John Makepeace OBE, award-winning designer-maker, will then review the submissions and select the winners. These 60 outstanding individuals will be announced at a special awards ceremony in autumn 2023."
Amanda also talked about her family's long-standing ties with the furniture sector – her late father Robin Waring was a past master of the livery company, and her mother was also immersed in the industry.
Then, ACID's Dids Macdonald OBE, (a past master of The Furniture Makers' Company) called for more representation and relevance within this sector: "In a sector where, at most between 20-25% are women, there is still a long way to go.
"Looking out to a roomful of women is a historic moment, what a fabulous sight. Twenty years ago this would not have happened in livery companies, nor within our own furniture industry – it would have been a sea of men. Greater diversity leads to greater creativity. The greater the variety of perspectives and life experiences we have, the greater the ideas, thoughts, new and fresh thinking enters the mix, and appealing to the widest talent base possible is the key to this – more talent, wider creativity. If we, as a sector, focus on our biggest 'minority' first, it is clear we need more women engaged, helping to build better workplaces, where they can thrive and contribute on subjects that affect us all."
Donna Bellingham had nothing but praise for the women she had encountered in her career leading the historic Parker Knoll brand and others in the sector. She believes it is up to women to lead the way, by identifying the talent of the future, offering support and mentoring. Having had a successful career and a proven record of leading noards through acquisition, growth, recession and merger, she sent a strong message by expanding the myriad of the benefits of mentoring and engagement to encourage younger women already in this sector and those who are considering a career within it, by raising awareness about the diverse industry opportunities to help them achieve their goals.
Zoë Bonsor, portfolio director of Clarion's Retail Division (which is behind such events as January Furniture Show and Home & Gift), which organised the event, said: "I have held these sort of events for women in different sectors and they have been a resounding success. Not only does it bring like-minded women together, but it provides a valuable person-to-person networking opportunity which we so need within this industry. More events like this are planned at various venues throughout the UK."
Find out more in August's issue of Furniture News.
Pictured – Amanda, Zoë, Donna and Dids