20 Jan 2023
Twenty10 X The January Furniture Show 2023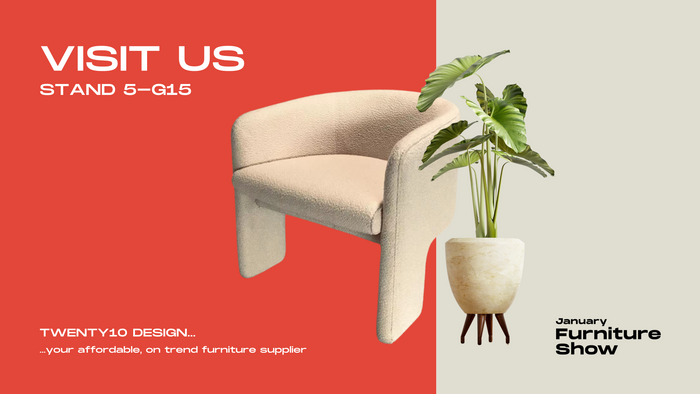 The January Furniture Show in Birmingham at the NEC is a must-attend event for anyone in the furniture industry, and we are thrilled to be attending and showcasing our new lines this year.
What is the January Furniture Show?
The January Furniture Show is an annual event that takes place in Birmingham, UK, and is one of the largest and most important events in the furniture industry calendar. It is a showcase for the latest and greatest in furniture design and innovation, and attracts buyers, sellers, and industry professionals from all over the world.
The show is held at the NEC Birmingham and runs for four days, from the 22nd to the 25th of January. It features over 500 exhibitors and is spread over several halls, with each hall dedicated to a different type of furniture. These halls feature home furnishings, contract furniture, outdoor furniture and upholstery and beds.
Not only are we excited to see the latest trends and techniques in the industry through the seminars and talks at the show, where industry experts discuss compelling topics such as sustainability, the future of furniture design, and the latest trends in the industry, but we are also looking forward to connecting with our clients and meeting new people in the furniture industry. The January Furniture Show provides the perfect opportunity to network and build relationships with others in the furniture world.
Twenty10 Design and Sustainability
Sustainability is a becoming key focus for our business moving forward, and we are always looking for ways to incorporate eco-friendly practices into our products. Our new lines feature sustainable materials and methods, furthering our commitment to sustainability. There will be some interesting talks at the show on sustainability, one talk we are particularly excited for is the 'British Design, Innovation and Sustainability' session.
In addition to attending the seminars and talks, we are also looking forward to showcasing our new lines at the show. We have spent months researching and developing these products, and we can't wait for attendees to see what we have to offer. From modern and contemporary designs to classic and traditional styles, we have something for every taste and need.
We are eager to participate in the January Furniture Show and we can't wait to see what the event has in store. We are confident that our new lines will be a hit, and we look forward to connecting with our clients and making new industry connections at the show. Be sure to visit us at stand 5-G15 and pre-book an appointment with one of our sales representatives to ensure that you don't miss out on all that we have to offer.