07 Feb 2023
TOMASELLA TfA AWARDS - The Furniture Awards 2023 Winner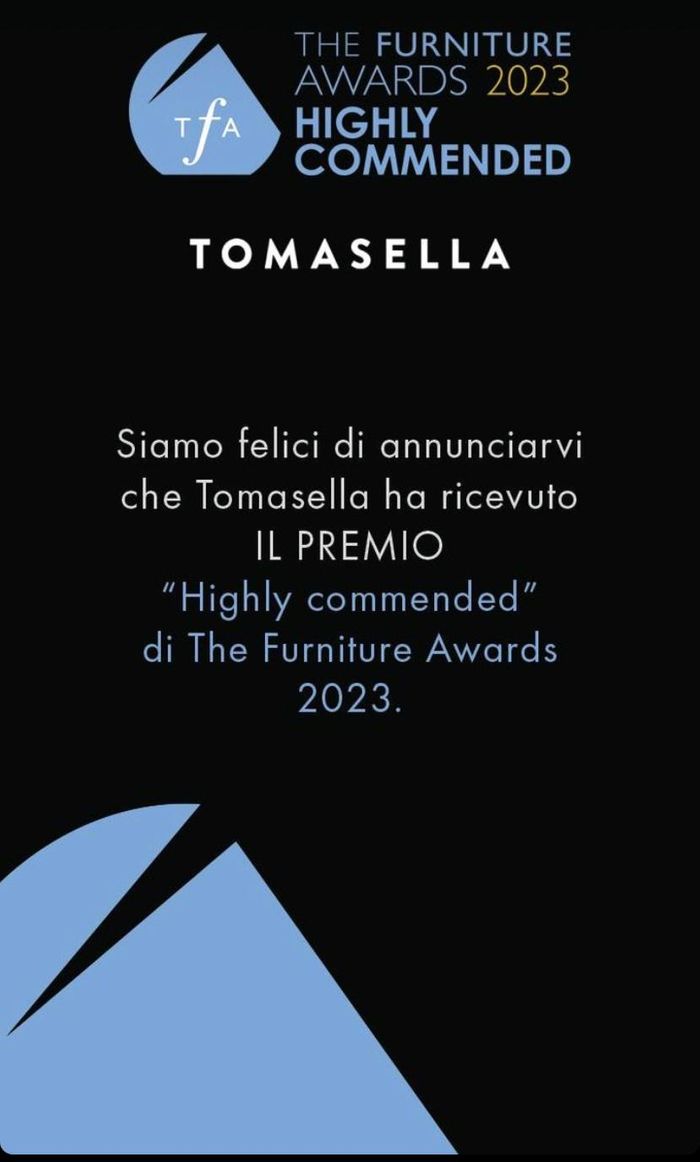 We are pleased to inform you that TOMASELLA has been awarded the "Highly commended" award at the NEC, FURNITURE SHOW 2023. We are honored by this recognition.
We thank everyone who came to visit us at NEC, FURNITURE SHOW 2023.
Our company was founded in 1948 when Luigi Tomasella decided to unite the skills of craftsmen, cabinetmakers, designers and artisans in a common goal: to create easily accessible quality, tasteful and elegant furniture.
In over 70 years of activity, production has evolved. The introduction of laminated panels has completely changed the type of work: from mass production, we have moved to increasingly tailor-made production, constantly sought after by the market. In the last decade, we have adopted material processing, revisiting the production method of creating our furniture and furnishing accessories.
The opportunity to have printed panels has revolutionised production and the range of possibilities we can offer, expanding the machine park, the professionalism of the workforce, the number of employees, the spectrum of finishes, the possibilities of combinations of materials and textures, enhancing the quality and reliability of the product.
Our strength?
Understanding this change, reading its signals and interpreting them to provide you and our dealers with a product capable of satisfying multiple needs. This is how we have established ourselves in the heart of the market: by listening, observing, by putting people first. You are at the centre of our success. This is how we see ourselves in the future: with the same passion as today, ready to discover new technologies, always with the well-being of the family at the centre: ours, our employees and yours, who have chosen us for generations.
We are TOMASELLA
https://youtu.be/U3l_y-rpT3w