19 Apr 2023
Clarion Retail unveils a fresh new look and show offering for January Furniture Show 2024 as 74% exhibitors return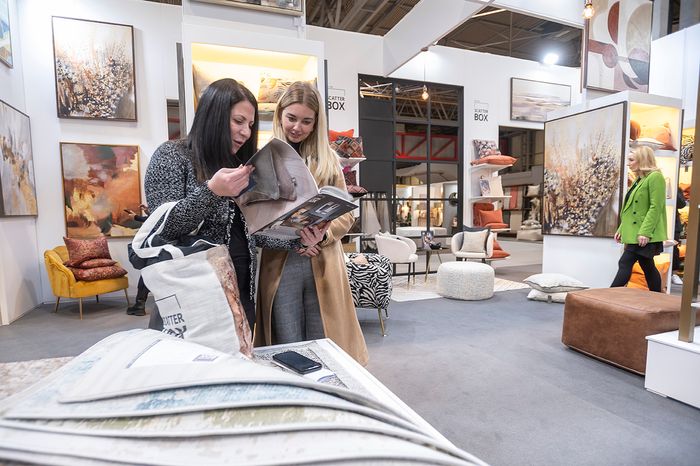 As trends in the home furnishing and interiors industry evolve, Clarion Retail's January Furniture Show will be leading change with a brand refresh, a series of new show features and an updated show layout for its 33rd annual edition, taking place 21-24 January 2024 at the NEC, Birmingham.
While the event undergoes a revamp, 74% of last year's exhibitors have already committed to return for next year's event, including Birlea, Global Furniture Alliance, La-Z-Boy, Global Home, Softnord, Celebrity Motion, Wiemann, Rauch, VIDA Living, LPD, At the Helm, Alpha Designs, Baker Furniture, Bontempi, Forte, Incanto, Pacific Lifestyle, Mindy Brownes, Premier Housewares, Scatterbox, Tetrad, Westbridge, Whitemeadow, with more brands confirming each week.
Looking ahead to the 2024 event, the new branding introduces a clean and contemporary muted colour palette of teal, terracotta and earthy tones that represent the lifestyle and interior design aesthetic that the show's community of retail buyer attendees and their design-savvy consumers aspire to. Teal is the colour of rejuvenation, education and clarity of thought, giving a feeling of peace during turbulent times.
The minimalist branding reflects this move towards design and trend-led home furnishings, with the aim of appealing to a wider base of buyers and manufacturers of modern design interior products. Clarion Retail's portfolio director, Zoe Bonser described the rebrand as "combining a mix of current interior design styles that will position January Furniture Show as being at the forefront of modern furniture and interior design."
A tranche of new event features further demonstrates the show's renewed focus on design trends and commitment to enhancing the visitor and exhibitor experience. A programme of social events will take place over the four-day event to facilitate crucial business discussions and networking opportunities between exhibitors and the buyers in attendance.
The 'JFS Social' is being billed as the main event when all attendees and exhibitors will be invited to network with clients and colleagues. A daily 'happy hour' at the end of each day will provide further networking opportunities and a new champagne bar will offer a more high-end setting for client meetings and private networking. Zoe Bonser said, "the social element of tradeshows cannot be understated and based on feedback from our exhibitor community, it's where many of the important show conversations happen, whether in a business or relationship-building context. So, we've designed a comprehensive programme of social events to make sure exhibitors make these valuable connections and have more meaningful interactions at the show."
Building on the trends installation feature that debuted at this year's January Furniture Show, an enhanced trends feature will showcase design innovations from the show's most cutting-edge brands forecast for retail success. Natalie Alexander, co-founder and creative director at the Better Trends Company, the show's official trends partner said, "we are delighted to have the opportunity to provide exclusive trend and forecasting insight to Clarion Retail for a second year running and can't wait to share plans for an even bigger curated trend forecasting installation at January Furniture Show 2024."
The reimagined show layout will optimise the visitor journey, replacing the original layout comprising three sector zones (premium design; interiors; and living, dining and bedroom) with four areas: premium design; cabinet; upholstery; and interiors and accessories, with this fourth zone rebranded as the Home Interiors Show.
January Furniture Show has been taking place annually since 1990 and is the largest and longest-running furniture and interiors trade exhibition in the UK, showcasing 350+ regional, national and international brands and over 11,000 attendees. The 2023 edition saw 25% increase in attendance from 2022 and 74% exhibitors will be returning for the 2024 event.